Your Guide to Calgary Snow Removal and Snow-Blowing your Driveway
Removing the snow from a household driveway is often a difficult chore to complete and can be especially strenuous for anyone with physical conditions or those advancing in age. For easier methods for Calgary snow removal, many homeowners opt for a snow blower. A snow blower makes snow removal more accessible for anyone with a driveway and is a much safer alternative than physically shovelling the snow off. 
Before you invest in a snow blower, learn more about this helpful piece of equipment, the different types you might be interested in, and why it has become such a popular fixture among homeowners. 
Electric and gas-powered snow blowers
When using a snow blower, you should make sure that you are using the best snow blower for your driveway, as it will help ensure that you receive the best performance from your snow blower. There are a couple of options to choose from when it comes to snow blowers, including electric and gas-powered ones that can vary in size. A small electric model may be sufficient for your needs if you receive minimal snowfall. However, if you have a larger driveway or sidewalk that needs clearing, it is best to use a more powerful electric model to minimize hassle and get the job done quickly. Electric-powered snow blowers will be a great alternative for people who receive little snowfall and have short driveways. At the same time, gas-powered machines are better for those who have a paved driveway and need to clear heavier snowfall.
If you have moderate snowfall, a gas-powered snow blower will be an effective snow removal measure. This model has a large clearing width for ease of use and a remote chute control for throwing the snow where you want it. It also has power steering, which reduces strain on your back, arms and legs, so you don't experience any pain or soreness due to the power stage gas engine.
Double-stage
For those who experience heavy snowfall, a double-stage snow blower is another alternative to choose from among the different types of snow blowers. This larger two-stage machine can easily clear up to 20 inches of deep snow in a single pass and has six different speeds to choose from. It also has engine-driven wheels, so you can easily maneuver it around your driveway. If you want full confidence that your driveway will be cleared after every snowfall, this machine is the best choice.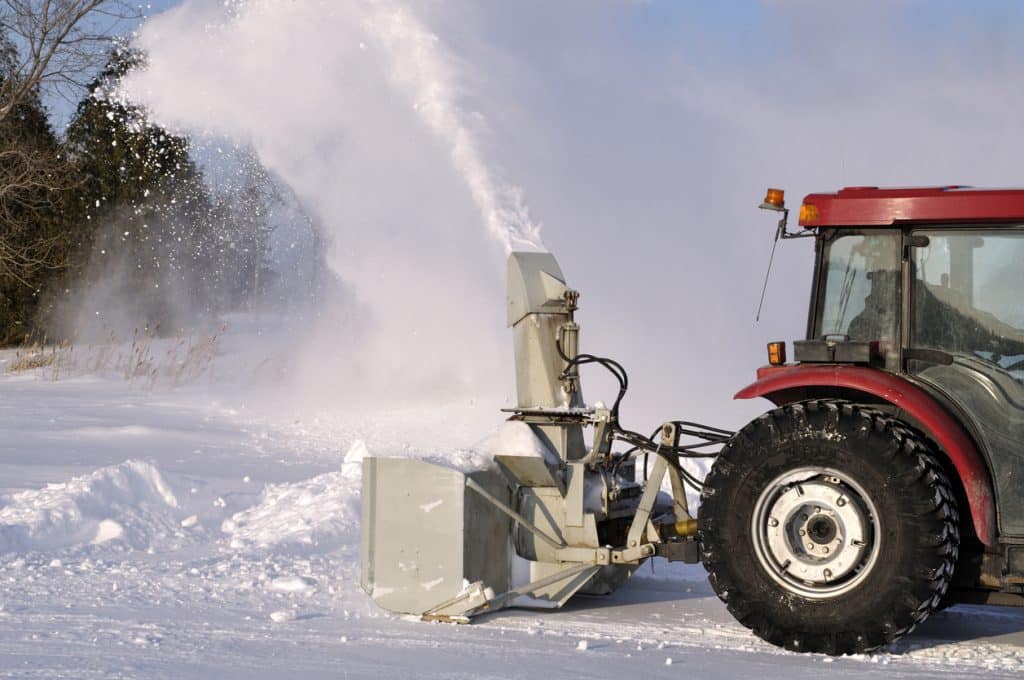 How to use a snow blower
Before you start using a snow blower, it's essential to clear the initial amount of snow with a shovel or snowplow. This will help avoid large snowbanks that may clog up the machine as you blow and can be dangerous to throw rocks into areas. You'll also want to adjust your machine's lower-blowing shoe according to the driveway's stage. For gravel driveways, it's best to set the shoe slightly lower than other surfaces, as this will help prevent the auger from throwing gravel.
Effective and accelerated snow removal 
To use your snow blower to blow as much snow off your driveway as possible, moving the machine around in a circular motion is essential. When working on a paved driveway, you'll want to put skid shoes and skid plates on the bottom of the machine. This will help prevent any damage from occurring while blowing snow. Work your way up and down the driveway, keeping the machine's auger close to the ground. This will ensure that all of the snow is blown away, leaving behind a clean surface.
Economy Snow Removal is a household name in commercial snow removal in Calgary. We know that winter can wreak havoc on roads, parking lots and sidewalks around your business. We provide the solutions that ensure your property is safe for pedestrians, employees and customers while remaining visible and accessible. With over four generations of experience, skills, and modern tools and equipment, we can handle any job, big or small. We can aid any situation by offering ice removal, snow hauling, property maintenance and snow plowing in Calgary. With consecutive Consumer Choice awards, you know you're getting value and quality with our trustworthy team. Contact the industry-leading snow removal company in Calgary today at 403-427-7669